Okay, I'm a little behind, but SITS is holding one final contest this summer and they are giving away a killer (and I'm not being funny regarding my previous post.) PRIZE!!!
Apple 4G iPod Nano in Silver
Click this link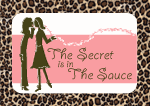 and here's your chance. I'm going to win, so I don't really want you to click here, but SITS says I have to if I want an extra entry, so I'm trying to follow the rules. Am I disqualified for being a bad sport?